Villard-de-Lans, 35 km from Grenoble, in the Vercors mountains
T

he

meeting will take place in "La Coupole",

59 place Mure Ravaud, 38250 Villard-de-Lans
Accomodation will be in Grand Hotel de Paris (Best Western), 124 place Pierre Chabert, 38250 Villard-de-Lans (

100 m from La Coupole)
How to get there
TO GRENOBLE: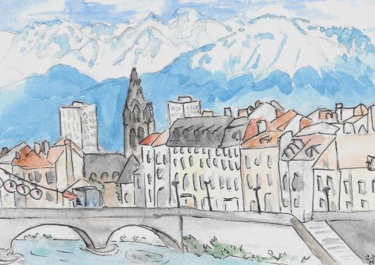 Nearest train station: Grenoble (3 h from Paris, direct high speed trains)
FROM GRENOBLE TO VILLARD DE LANS:
Bus: A private coach will be proposed from Grenoble to Villard de Lans late afternoon Sunday 5th for the arrival and for the return from Villard de Lans to Grenoble Thursday 9th at

around 2pm
T

here are also plenty of public transportation buses between Grenoble Central Bus Station and Villard de Lans,

(lines 5100 and 5110). Duration: 1h. The bus station is next to the train station. Buses and Timetables
Taxi

: from Grenoble to Villard-de-Lans: 80-90 €
Weather

At this period, the weather may be subject to thunderstorms. Temperatures are expected to be within the range 15-26°C.
The organizers decline any responsibility in case of accident or theft. Participants need to have their own health and accident insurances in order.
Participants should check as soon as possible whether they need a Visa for traveling to France.